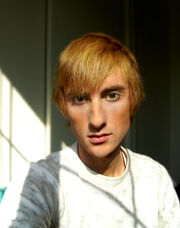 Joshua Patrick Dudley was born and raised in Hooksett, New Hampshire, and now resides in Manchester, New Hampshire. Son of Laurel Levesque and Michael Dudley and brother to Tamara, Meghan and Caitlin Dudley, Joshua believes in the power of family. Joshua has always been exposed to the arts and credits his mother with his aspirations of writing. She would always read aloud with him growing up and Joshua's favorite fantasy land travel location has always been Oz.
His fascination and love for the stories of Oz started when he was just two years old. He, his twin sister and his mother shared his first viewing of the MGM classic, The Wizard of Oz. From that point on Joshua was obsessed with the magical land and its inhabitants. He read all of the Oz novels by L. Frank Baum, starting with The Wonderful Wizard of Oz.
By the time he was in his teens he'd found another love; the stage. After performing in over eighty theatre productions (four of which were Oz-themed shows), he decided to move to New York City and go to school for musical theater.
Upon his return, the family was struck with a great loss. His grandmother on his mother's side, Lorraine T. Lamphere had passed away. Someday, he decided, he would find a way to forever commemorate his grandmother. Writing his first book was a perfect opportunity.
After the success of the first installment of Lost in Oz, Joshua began to plan a trilogy of Oz books and has since released his second novel, Rise of the Dark Wizard. The third and final installment of the Lost in Oz trilogy, Temple of the Deadly Desert, was just released in June 2011.